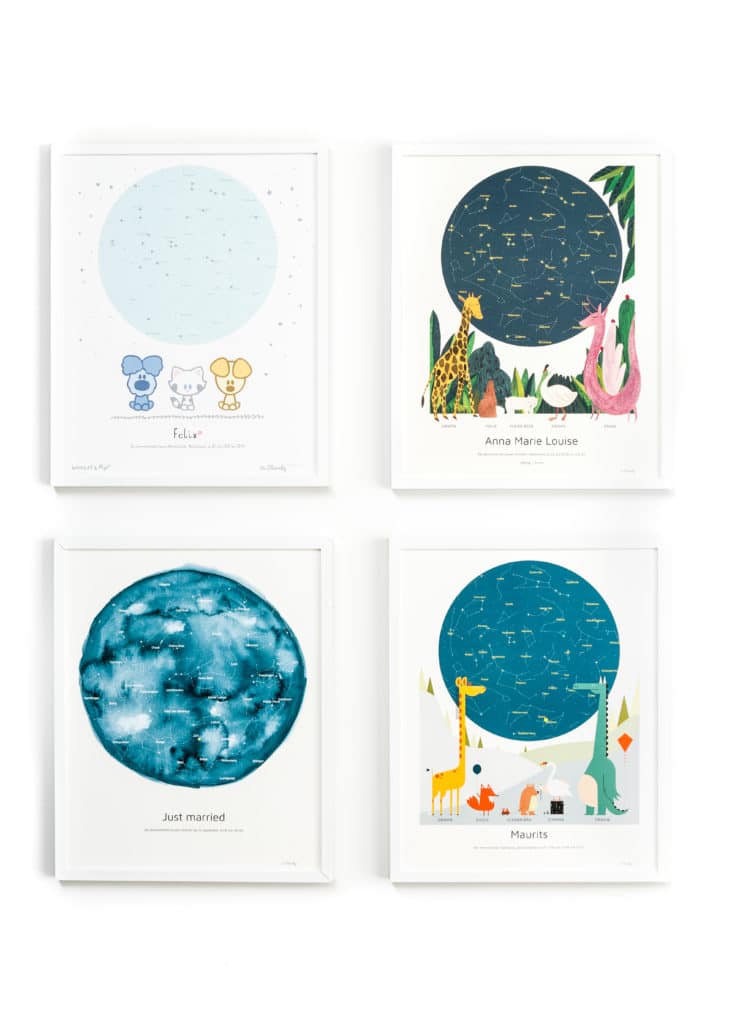 Studio Kars + Boom
"We create new worlds in which we wish to wake up, every day. We search for the geometry of landscapes, the shapes and patterns of cities thus creating a new interplay of lines.", says Kevin Kars and Cynthia Boom of Studio Kars + Boom. Their colorful graphics is what got us attracted to their designs – even before the existence of MrStarsky. We had the pleasure of meeting each other at the Dutch Design Week of 2015 in Eindhoven. Our concept of the personalized posters of the starry sky is what got them attracted to us: we launched our very first poster with them! (visit http://karsenboom.nl/)
Marta Abad Blay
Spanish artist Marta Abad Blay is a very versatile one, with a background in Fine Arts (University of Valencia) and in Visual Effects (Film Academy, Amsterdam). Drawing has always been a passion of hers. Besides creating lovely illustrations for MrStarsky, she runs her own children's brand, designs prints for a wide variety of kid's clothing lines, and she creates illustrations for a book. As an illustrator, she's known for her naïve and organic drawing style. You can visit her website over here: https://martabadblay.tictail.com/
AQUA
In the spring of 2018, we launched our third style: MrStarsky x AQUA. This soft-eyeing watercolor style with a serene and timeless appearance, can serve as a gift for many special occasions: from the birth of a baby, or birthdays to a marriage, or a (romantic) first meeting. This design fits perfectly with the current interior design trends and is easy to incorporate with every other wall decoration! The AQUA starry sky was painted by Fennechien, one of the founders of MrStarsky.
Sella Molenaar
Sella Molenaar's work is fluent, minimalistic and can be described as a spontaneous and intuitive interplay of lines. Imperfection is often the main subject in her designs. Her work is highly appreciated, endorsed by an impressive portfolio for high-end brands, such as Harper's Bazaar, La Perla, de Bijenkorf and SLA. The use of color and materials in her designs for MrStarsky x Sella Molenaar are typical for her style, this way the posters bear a true Sella-signature. Sella created two illustrations: 'Forever' represents the bond between parent and child, 'Together' is symbolic for the precious bond between two people, e.g. lovers, friends, or family. Read more about Sella through www.sellamolenaar.com
TERRA
Just like MrStarsky x AQUA this design is painted by Fennechien, one of the founders of MrStarsky. By using soft and neutral Terracotta tones, the starry sky gets a timeless look and fits very well in a Scandinavian, a bohemian or a retro interior. Also the stars and constellations in goldfoil provide an extra luxurious appearance. This way MrStarsky x TERRA suits many special occasions very well, such as a marriage, a birth, an engagement or a birthday!